BRUCE JACKSON-ON THE ROAD WITH ELVIS posticipato al 2021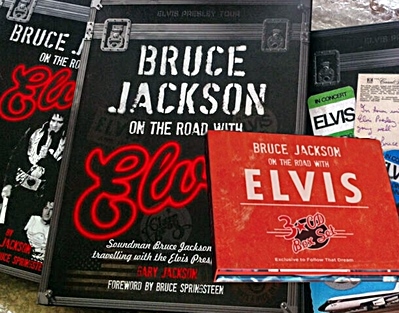 A causa della pandemia causata dal famigerato Coronavirus, il libro della FTD con tre CD allegati "Bruce Jackson-On the road with Elvis" è stato posticipato alla primavera del 2021.
La notizia è stata data in anteprima dal sito belga UEPS che ha riportato l'annuncio dato da Roger Semon.
Ci siamo quasi…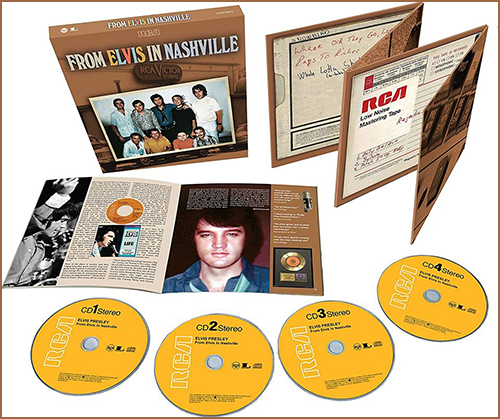 Dal 20 novembre, su Amazon, sarà disponibile lo splendido cofanetto di 4 CD "From Elvis in Nashville" a cura di SONY / Legacy.
Come senza dubbio saprete già, sarà composto da 4 CD che ci faranno ascoltare Elvis ai massimi della sua forma artistica (Nashville, giugno e settembre 1970), in versione undubbed e alternativa.
Il box sarà affiancato anche da un doppio LP che presenta una selezione di brani tratti da esso.
Vi invito a supportare questo tipo di emissioni discografiche (nei limiti delle vostre possibilità, ovviamente) per due motivi:
1) siamo di fronte ad uno spledido prodotto che "affronta un tema" ancora poco conosciuto ai più: l'ultima parte della carriera di Elvis. Sono brani favolosi, con audio al top.
Il cofanetto costa poco meno di 40 euro ed il prezzo, se consideriamo la sua qualità, è davvero contenuto.
2) Il CD sta morendo, è inutile nascondersi dietro un dito. Se moltissimi di noi supportano questi prodotti, sarà linfa vitale per tenere in vita questo supporto che, anche se non mi ha mai entusiasmato, è sempre meglio dell'impalpabile audio digitale.
Tutti i dettagli sulle tacklists li potete leggere sul forum in questo thread.
STAGE POWER-On tour. November 1970
Si tratta di un box di 4 CD con registrazioni degli shows del tour di novembre 1970, il primo dopo il gran ritorno all'attività live in quel di Las Vegas.
Si tratta di concerti incredibili dei quali però abbiamo sempre ascoltato registrazioni amatoriali.
Anche in questo caso dovrebbe trattarsi di audience recordings ma confidiamo nella tecnologia odierna.
A breve ulteriori dettagli.
OL' SWIVEL HIPS STILL WOVS' EM. APRIL – MAY 1977
Ecco un altro cifanetto bootleg, stavolta contenente sei CD, che verterà la sua attenzione sui concerti dell'aprile / maggio 1977.
Si tratta di Toledo 23 aprile, Ann Arbor 24 aprile, Kalamazoo 26 aprile, Milwaukee 27 aprile e Saginaw 4 maggio.
>Saranno presenti altre canzoni tratte da vari spettacoli di quel tour.
Attenzione perché non ci sarà nulla di inedito. È una buona occasione per chi si era perso questo materiale.
Per la dettagliata scaletta, cliccate qua e sarete sulla scheda del forum di EICC !
IT'S THE ELVIS SOUND OF THE SIXTIES
Vinile e CD dallo stesso contenuto da parte della Petticoat.
Si tratta di una compilazione alternativa con 18 outtakes incise durante gli anni '60.
Per la scaletta, clicca qua !
COUNTRY BALLADS 1967-1976
Recentemente, un'anonima label ha emesso diversi CD tematici riguardanti compilazioni alternative sui vari generi musicali affrontati da Elvis.
Stavolta siamo di fronte alle ballate Country.
Just Call Me Lonesome – take 4
Pieces Of My Life – take 4 / undubbed master / incl. count in
Charro – undubbed master
Loving Arms – string overdub of undubbed master
This Is The Story – backup vocal overdub of undubbed master
Never Again – take 4
Gentle On My Mind – repaired undubbed master / different mix
Early Morning Rain – 1973 version / take 1
And I Love You So – take 1 / incl. count in
There's A Honky Tonk Angel – unedited take 1
Green Green Grass Of Home – take 5 / undubbed master
Let's Forget About The Stars – master take 5 / rough mix
If I'm A Fool (FOR Loving You) – take 9 / unedited undubbed master
Help Me Make It Through The Night – fs & take 10
Kentucky Rain – take 10 / undubbed master
She Thinks I Still Care – 1980 mix / no backup vocals
Blue Eyes Crying In The Rain – 1980 mix
Funny How Time Slips Away – 1980 mix
I Really Don't Want To Know – live / june 19 1977
THE COMPLETE U.S. & U.K. SINGLE COLLECTION
Raccolta di tutti i singoli emessi in USA e UK nel periodo 1954-1962 in 3CD.
Materiale divenuto di pubblico dominio.
CD 1:
That's All Right Mama – Blue Moon Of Kentucky – Good Rockin' Tonight – I Don't Care If The Sun Don't Shine – Milkcow Blues Boogie – You're A Heartbreaker – Baby, Let's Play House – I'm Left, You're Right, She's Gone – Mystery Train – I Forgot To Remember To Forget – Heartbreak Hotel – I Was The One – I Want You, I Need You, I Love You – My Baby Left Me – Hound Dog – Don't Be Cruel – Blue Suede Shoes – Tutti Frutti – I Got A Woman – I'm Counting On You – I'll Never Let You Go (Little Darlin') – I'm Gonna Sit Right Down And Cry (Over You) – Tryin' To Get To You – I Love You Because – Blue Moon – Just Because – Money Honey – One Sided Love Affair – Lawdy Miss Clawdy
CD 2:
Shake Rattle And Roll – Love Me Tender – Anyway You Want Me (That's How I Will Be) – Playing For Keeps – Too Much – All Shook Up – That's When Your Heartaches Begin – (Let Me Be Your) Teddy Bear – Loving You – Jailhouse Rock – Treat Me Nice – Paralyzed – When My Blue Moon Turns To Gold Again – Party – Got A Lot O' Livin' To Do – Santa Bring My Baby Back (To Me) – Santa Claus Is Back In Town – Don't – I Beg Of You – Wear My Ring Around Your Neck – Doncha Think It's Time – Hard Headed Woman – Don't Ask Me Why – One Night – I Got Stung – How Do You Think I Feel – King Creole – Dixieland Rock – I Need Your Love Tonight
CD 3:
(Now And Then There's) A Fool Such As I – Big Hunk O' Love – My Wish Came True – Stuck On You – Fame And Fortune – It's Now Or Never – A Mess Of Blues – Are You Lonesome Tonight – I Gotta Know – The Girl Of My Best Friend – Make Me Know It – Surrender – Lonely Man – I Feel So Bad – Wild In The Country – (Marie's The Name) His Latest Flame – Little Sister – I Can't Help Falling In Love – Rock A Hula Baby – Wooden Heart – Tonight Is So Right For Love – Good Luck Charm – Anything That's Part Of You – She's Not You – Just Tell Her Jim Said Hello – Return To Sender – Where Do You Come From – Elvis Speaks (The Truth About Me – Lynchburg Audio Flexi Disc, December 1956) – King Creole (Remix (Gc Snare It Up Mix – Extra Instrumentation & Production Gary Clark)
Vinile della "Memphis Mansion".
Ecco un altro vinile della "Memphis Mansion" che uscirà sul mercato con un extended play natalizio dal titolo "Elvis- I´ll Be Home For Christmas".
Lato A:
Santa Claus Is back In Town – White Christmas
Lato B:
Blue Christmas – I'll Be Home For Christmas (With Original Greeting From Elvis.
ON STAGE WITH ELVIS PRESLEY
"On Stage with Elvis Presley: The backstage stories of Elvis" è il libro scritto da Stuart Coupe e Stig Edgren, che raccoglie ricordi e testimonianze di James Burton, Ron Tutt, Glen D. Hardin, e Jerry Scheff, componenti della TCB Band, che accompagnò il cantante dal 1969 al 1977.
Introduzione di Jerry Schilling.
Storie inedite di vita da backstage e on tour con tante curiosità e aneddoti inediti.
133 pagine, disponibile anche in Kindle version oltre che cartaceo.
Destineted to die young
'Destined to Die Young' cerca di esaminare e indagare sulla morte di Elvis per dare una risposta alle domande relative ai motivi che, in quel triste 16.08.1977, privarono il mondo intero della persona di Elvis.