GRACELAND di Bethan Roberts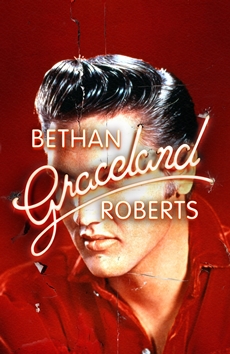 'Graceland' è un nuovo libro (etichettato come "Fiction storica") dell'autore Bethan Roberts.
Descritto come "Un nuovo romanzo di Bethan Roberts – una brillante ricreazione dei primi anni di vita di Elvis Presley, la creazione del "Re" e un ritratto straziante dell'intenso amore tra lui e sua madre, Gladys".
Cosa succede quando il tuo unico figlio diventa The King of Rock 'n' Roll?
Dal momento in cui lo tiene per la prima volta, dopo che il suo gemello è nato morto, Gladys Presley ama ferocemente suo figlio Elvis. Sarà la sua più grande influenza, l'amore della sua vita. Sarà lei al suo fianco, quando Elvis è un ragazzo e suo padre è in prigione; mentre la famiglia si sposta da un posto all'altro, sfiorando la povertà a Tupelo, nel Mississippi; come cresce l'ossessione di Elvis per la musica; mentre si spostano a Memphis e lui inizia il suo turbine a un successo mai visto prima …
E la amerà di nuovo, anche se il suo cuore è trasformato dal blues, dai vestiti e dalle ragazze. Ma mentre fa grandi cose a Hollywood, mette in ginocchio il pubblico di tutto il paese e raggiunge ricchezza e fama inimmaginabili, c'è un'altra storia – di pillole per bere e dieta, solitudine e perdita. Mentre il calore e la musica del Sud Americano negli anni '40 e '50 giocano in sottofondo, un ritratto straziante dell'amore di una madre e della devozione di un figlio è al centro dell'attenzione.
Quando Elvis raggiunge l'apice del suo potere, compra per la sua famiglia l'ultima dimora sulla collina, Graceland, dove spera che sua madre sia felice.
La realtà, tuttavia, è molto diversa, ed Elvis scopre che anche i re devono andare avanti da soli…
___________________________________________
THE BEST OF THE '68 COMEBACK SPECIAL
Un enorme gruppo di star eseguirà alcune delle canzoni più amate di Elvis Presley sul prossimo Elvis All-Star Tribute della NBC, come annunciato dalla rete martedì 8 gennaio.
L'evento in prima serata di due ore del 17 febbraio, tributo al leggendario 'Comeback Special', sarà ospitato da Blake Shelton e sarà interpretato da Kelsea Ballerini, Ed Sheeran, Dierks Bentley, Alessia Cara, John Legend, Little Big Town, Jennifer Lopez, Post Malone, Shawn Mendes, Pistol Annies, Darius Rucker, Yolanda Adams, Mac Davis, John Fogerty, Josh Groban, Adam Lambert, Shelton, Carrie Underwood e Keith Urban.
Il tributo, prodotto da Ken Ehrlich per AEG Ehrlich Ventures, LLC, ricrea lo Special del 1968 con interviste con la moglie Priscilla, il direttore dello Special, Steve Binder, e un'apparizione della figlia Lisa Marie Presley, secondo un comunicato che annuncia lo spettacolo.
Un album di accompagnamento, The Best of the 68 Comeback Special, uscirà il 15 febbraio su RCA / Legacy Recordings, incluse le registrazioni e le esibizioni di Elvis che hanno ispirato lo speciale e la nuova versione di "If I Can Dream".
L'album di 15 brani delle performances rimasterizzate includerà le parti "stand up" e "sit down" oltre a tre registrazioni originali in studio di canzoni che appaiono nello speciale della NBC.
Ecco come sarà composto il programma tributo:
"Trouble"/"Guitar Man" – Blake Shelton
"Hound Dog" – Shawn Mendes
"Burning Love" – Keith Urban
"Baby, What You Want Me to Do" – Keith Urban & Post Malone
"Jailhouse Rock" – John Fogerty
"Can't Help Falling in Love" – Ed Sheeran
"Always on My Mind" – Kelsea Ballerini
"Heartbreak Hotel" – Jennifer Lopez
"One Night" – Darius Rucker
"Suspicious Minds" – Blake Shelton
"Love Me Tender" – Alessia Cara
"Memories" – Mac Davis
"A Little Less Conversation" – John Legend
"Are You Lonesome Tonight" – Little Big Town
"Blue Suede Shoes" – Adam Lambert
"Love Me" – Pistol Annies
Hits Medley ("That's All Right," "Don't Be Cruel," "Blue Suede Shoes") – Mac Davis, Post Malone, Little Big Town, Darius Rucker & Blake Shelton
Gospel Medley ("How Great Thou Art," "He Touched Me," "You'll Never Walk Alone" – Carrie Underwood & Yolanda Adams
"Little Sister" – Dierks Bentley
"It's Now or Never" – Josh Groban
"If I Can Dream" – Elvis Presley, Carrie Underwood, Shawn Mendes, Post Malone, Darius Rucker, Blake Shelton
1. Trouble / Guitar Man (Opening)
2. Heartbreak Hotel (First "Stand Up" Show)
3. Hound Dog (Second "Stand Up" show)
4. All Shook Up (Second "Stand Up" show)
5. Can't Help Falling In Love (Second "Stand Up" Show)
6. Jailhouse Rock (Second "Stand Up" Show)
7. Don't Be Cruel (First "Stand Up" Show)
8. Blue Suede Shoes (Second "Sit Down" Show)
9. Baby, What You Want Me To Do (First "Stand Up" Show)
10. Are You Lonesome Tonight? (First "Sit Down" Show)
11. One Night (Second "Sit Down" Show)
12. Love Me Tender (First "Stand Up" Show)
13. Trying To Get To You (Second "Sit Down" Show)
14. Love Me (Second "Sit Down" Show)
15. Memories
Bonus Tracks:
16. A Little Less Conversation
RCA Victor single
17. Suspicious Minds
RCA Victor single
18. Burning Love
RCA Victor single
*19. If I Can Dream – Elvis Presley, Carrie Underwood, Shawn Mendes, Post Malone, Darius Rucker, Blake Shelton
*Previously Unreleased
Tracks 1-15 Recorded June 1968 at Western Recorders Hollywood, CA and NBC Studios, Burbank, CA for the Elvis (NBC TV Special)
Track 16 recorded March 1968 at Western Recorders Hollywood, CA
Track 17 recorded January 1969 at American Sound, Memphis, TN
Track 18 recorded March 1972 at RCA Studios, Hollywood, CA
Track 19 recorded October 2018 at Universal Studios, Universal City, CA