APRIL 10, 1972. RICHMOND, VIRGINIA

Annunciato in ottobre dalla Victrola, questa registrazione audio dello show di Richmond del 10 Aprile 1972, è stata finalmente emessa.
È tratta dal nastro a 8 e 16 piste, pertanto la qualità audio si preannuncia stratosferica!
Edito originariamente in CD nel 1995 dalla Vicky col titolo di 'Carry Me Back To Old Virginia', è stato ripubblicato nel 2008 dalla Madison in 'Red Hot In Richmond' per la prima volta in stereo.
_________________________
FROM THE ARMY REELS
Corposo box per la gioia dei collezionisti del vinile:  ben cinque 45 giri, un EP e un CD in deluxe box set per celebrare il 20° anniversario della VIK.
È presente un libretto di 12 pagine. Il set è disponibile in versione vinile verde o rosa!
Leggere QUA per ulteriori dettagli.
__________________________________________
THE SOUND OF YOUR CRY


THE SOUND OF YOUR CRY è stata una compilation in vinile del 1981  (la risposta a Greatest hits, volume one… Episodio che non ebbe mai un seguito), mai edita in CD (a differenza di Greatest hits volume one, divenuto ora un CD RCA rarissimo).
Viene dunque riproposta la tracklist originale più le bonus che, nient'altro sono, le canzoni che all'epoca differenziavano le due emissioni "cugine", ovvero, presenti in Greatest hits volume one e non in The sound of your cry.
Da segnalare la extended version di "It's Only Love", "Angel" e "Steamroller Blues".
Per ulteriori dettagli, CLICCA QUA !
___________________________________
HOLDING BACK THE YEARS (2 LP's)
Dopo Here I go again, Old times they are not forgotten e Let me take you home, la DAE propone la ristampa in vinile di un altro storico CD dell'epoca d'oro dei soundboards, quando il mondo pirata offriva ancora chicche eccezionali: HOLDING BACK THE YEARS con la performance del 21 marzo 1976 di Cincinnati.
Clicca qua per tutti i dettagli !
________________________________________
BUMPS ARE GONE BUT HE'S STILL KING !

La E.P. Collector, con numero di catalogo EPC 2018-19, presenta il CD "Bumps Are Gone But He's Still King!" che offre la registrazione amatoriale dello show di Hartford del 28 Luglio 1976. Tempo fa, la Audionics pubblicò parte di questo concerto da una fonte soundboard ( "Across The Country" 2005) che purtroppo rappresenta l'unica porzione di quello spettacolo giunta sino a noi in qualità ottima.
Ecco dunque l'occasione di ascoltare lo show per intero grazie a questa fonte audience ma a quanto pare di buona qualità.
È un concerto abbastanza lungo e molto buono, le cui highlights sono ,,Jailhouse Rock", "America", "Polk Salad Annie" e "Hurt".
Un momento particolare dello spettacolo è quanto Elvis intona "Happy Birthday", alla piccola Kitty Kahane, figlia di Jackie Kahane.
Clicca qua per ulteriori dettagli !
____________________________
WONDERFUL WINTER WONDERLAND
Aria di Natale…
La CMT (che poi è la STAR) non perde occasione per proporci una compilation di spliced e alternate takes a tema.
O Come, All Ye Faithful – spliced take 2 (alternate edit)
The First Noel – Spliced dubbed/overdubbed *
On A Snowy Christmas Night – Spliced dubbed/overdubbed
Winter Wonderland – Alternate Master *
The Wonderful World of Christmas – Spliced "Harmony" master
It Won't Seem Like Christmas – Spliced take 4,5,6,5
I'll Be Home on Christmas Day – Spliced take 2,3
If I Get Home On Christmas Day – Fs/Spliced take 1,3,1,3
Holly Leaves And Christmas Trees – Spliced take 6,8,3
Merry Christmas Baby – Spliced overdubbed master
Silver Bells – Spliced Rehearsal/take 1
I'll Be Home on Christmas Day (remake) – Spliced take 1,1,2
___________________________________
STAX POWER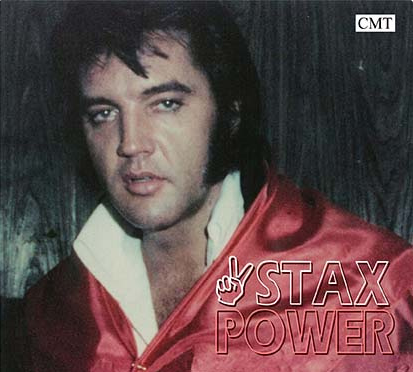 La CMT si concentra sulle sessions agli Stax Studios del luglio, settembre e dicembre 1973, Spliced takes, ovviamente.
CD 1:
"July"
You Don't Come Back – spliced take 1,2,5
It's Different Now – Rehearsal
Three Corn Patches – Spliced take 5,6,10
Take Good Care of Her – FS/take 3a
Find Out What's Happening – - Spliced take 1,2,4,5
I've Got A Thing About You Baby – Spliced take 6,7,11,14,11
Just A Little Bit – Spliced take 1,2
Raised On Rock – take 10 (rough mix)
For Ole Time Sake – - Spliced take 6,4
Girl of Mine – Spliced take 1,6
Sweet Angeline – Alternate Master
I Miss You – Spliced take 12,10
Are You Sincere – Spliced take 2,1
"September"
Good Bad But Beautiful – Instrumental Track
Color My Rainbow – Instrumental Track
The Wonders You Perform – Instrumental Track
CD 2:
"December"
I Got A Feeling in My Body – Spliced take 1,4
It's Midnight – Spliced take 7,11,9,9
You Asked Me To – - Spliced take 1,2A,3B,2A,3B
If You Talk In Your Sleep – Spliced take 5,6
Mr. Songman – Spliced take 3,5,2
Thinking About You – Spliced take 4/rehearsal
Love Song of the Year – Spliced take 6,7
Help Me – FS/take 1 *
My Boy – Spliced take 1,2
Loving Arms – - Spliced take 2/Rehearsal
Good Time Charlie's Got the Blues – Spliced take 4,6
Talk About the Good Times – Spliced take 1,2,3
Promised Land – Spliced take 3,4,5
Your Love's Been A Long Time Coming – Spliced take 8,10
There's A Honky Tonk Angel – Spliced take 5,3,8 *
If That Isn't Love – Spliced take 6,7
Spanish Eyes – Spliced take 3,2
She Wears My Ring – Spliced funny portions / take 8