YOU'LL NEVER WALK ALONE
Data di pubblicazione
5 marzo 1971
N° Catalogo
Camden CALX-2472
Multi Platino
Dettagli:
Altro album religioso, stavolta a cura della sussidiaria della RCA, la "Camden", che raccoglie alcune canzoni inedite all'epoca come "Who am I ?" e "Let us pray" e la canzone che dà il titolo al disco che aveva visto la luce solo su 45 giri.
Da segnalare anche la presenza dei brani Spirituals editi nel 1957 all'interno dell'album natalizio, tagliati dalla Camden nel suo "Christmas album" del 1970.


"You'll never walk alone" rimase per 12 settimane in classifica raggiungendo il 69° posto.
Nel 1974 fu ripubblicato come CAL-2572 e nel dicembre del 1975 venne ripubblicato come Pickwick CAS-2472.


Questo album venne premiato col disco d'oro il 27 marzo 1992, il 15 luglio 1999 con quello di platino ed il 6 gennaio 2004 con 3 di multiplatino.
PUBBLICAZIONI IN CD
La prima edizione in CD di questo album è del 1987 (CAD1-2472) ed è una produzione americana/canadese che fu ristampata anche nel 1988.
Nel 1991 e 1992 venne riedito ma di produzione americana, con lo stesso numero di catalogo e si contano anche riedizioni del 1994 e 1995.
Da segnalare la copertina diversa: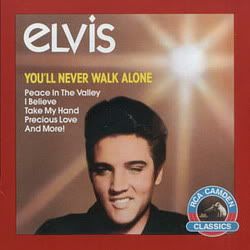 Nel 2006 la SONY riemette il CD con la sua copertina originale (Sony/BMG A 689960).
EMISSIONI TRACK LIST
LATO A:
You'll Never Walk Alone
Who Am I
Let Us Pray
(There'll Be9 Peace In The Valley (For Me)
We Call On Him
LATO B:
I Believe
It Is No Secret (What God Can Do)
Sing You Children
Take My Hand Precious Lord
RECENSIONI
Di Roberto Paglia
Nel 1970, quando la RCA aveva rielaborato e "modernizzato" il vecchio album natalizio degli anni cinquanta per la linea budget denominata Camden, aveva probabilmente già in cantiere una successiva, analoga operazione discografica.
Dalla nuova versione era stato infatti estrapolato l'intero extended play Peace In The Valley, comprensivo di quattro brani che nel 1957 avevano costituito un terzo dell'ELVIS' CHRISTMAS ALBUM originale. Un taglio inevitabile, che consentiva di fare spazio a due canzoni che ancora non erano state proposte su Long Playing: la perfettamente in tema If Every Day Was Like Christmas, singolo nel 1966, e la malinconica Mama Liked The Roses, in tempi recentissimi "lato b" della ben più nota Kentucky Rain.
Nel marzo del 1971 viene quindi dato alle stampe il nuovo 33 giri targato Camden, che raccoglie i pezzi del già citato EP, unitamente a materiale di varia provenienza, tutto a carattere religioso. Anche se non può essere considerato il naturale seguito di His Hand In Mine (1960) e How Great Thou Art (1967), You'll Never Walk Alone è un disco che rispecchia fedelmente i suoi intenti e che ha il grande pregio di raccogliere quelle incursioni di Elvis in ambiti "sacri" che rischiavano di perdersi per strada.
Sono ben cinque i brani inseriti nella compilazione che destano l'interesse dell'appassionato, e questo depone senz'altro a favore di una emissione a basso prezzo che si trasforma in un prezioso mezzo per completare il vasto catalogo Elvisiano.
Nel dettaglio, You'll Never Walk Alone e We Call On Him sono i due lati di un singolo del 1968, peraltro di non elevato successo, mai apparsi prima su un album.
Let Us Pray fa parte della colonna sonora di Change Of Habit, e non era ancora stata trasferita su vinile.
Sing You Children, tratta da Easy Come, Easy Go, era rimasta confinata all'omonimo, ormai dimenticato EP del 1967.
Who Am I? infine, è un inedito assoluto che proviene, niente di meno, dalle favolose sessions del 1969 a Memphis, le stesse che avevano prodotto meraviglie quali, fra le tante altre, In The Ghetto e Suspicious Minds.
La canzone che da il titolo a questo disco, incisa durante una significativa seduta di registrazione a Nashville nel settembre del 1967, al primo ascolto potrebbe risultare penalizzata dal fragore dell'orchestrazione e dei cori, che la  coprono per quasi tutta la sua durata, dopo il primo minuto di quiete. In realtà Elvis cavalca l'onda della tempesta sonora, diventandone parte e guida allo stesso tempo. L'effetto complessivo è di puro abbandono, davanti alla forza di questo messaggio di amore e rassicurazione.
We Call On Him, realizzata nello stesso giorno della precedente, è similmente caratterizzata da un'introduzione pacata che poi evolve con minor enfasi, ed è colma di sincera devozione al Signore. Forse non raggiunge l'intensità di You'll Never Walk Alone, ma dimostra di non averne l'urgenza. Questa esortazione a ricorrere alla fede ben prima del bisogno, si fa amare sopratutto per la bellezza della voce di Elvis, come in tantissime altre occasioni dolce e potente in egual misura.
Let Us Pray è una sorta di Gospel edulcorato e senza troppe pretese, che era però riuscito a rendere efficace la scena conclusiva dell'ultimo film a soggetto di Elvis. Molto particolare ed esageratamente frenetica l'agilissima sezione ritmica, mentre la prova del cantante, sorretta dall'indispensabile coro, è piuttosto convinta.
Sing You Children è un altro Gospel annacquato, che non riesce a scrollarsi pienamente di dosso la pochezza degli arrangiamenti, la piattezza di fondo della colonna sonora d'appartenenza. Comunque godibile, a patto che non lo si confronti con analoghe interpretazioni di Elvis, anche vicine dal punto di vista temporale.
E veniamo a Who Am I?, inedito che sarebbe ingeneroso considerare un episodio minore dei giorni agli American Sound. In realtà ne rappresenta la quota religiosa con grande rispetto, ed è superfluo sottolineare con quanta devozione e coinvolgimento Elvis approcci questa ennesima preghiera. Una piccola perla nascosta.
Anche per la copertina di You'll Never Walk Alone (era già accaduto con Almost In Love) si ricorre ad uno scatto ritraente Elvis durante un concerto, che ha in apparenza ben poca attinenza con quanto musicalmente proposto. Dunque un reiterato inganno perpetrato ai danni dell'ignaro acquirente? Non necessariamente, per una volta. Il candido abito di scena di Elvis, simile a una tunica, la posa solenne, la luce alle sue spalle che pare arrivare direttamente da lassù, rendono l'artwork molto affine alle esternazioni di fede incondizionata che scaturiscono dai solchi del vinile.