ROUSTABOUT
Data di pubblicazione
20 ottobre 1964
N° Catalogo
LPM 2523 MONO/LSP 2999 STEREO
Disco d'Oro
Dettagli:
Tutte le undici canzoni di questa colonna sonora vennero registrate negli studi Radio Recorders di Hollywood il 2 e 3 marzo 1964 tranne "Roustabout" che risale al 29 aprile e 14 maggio.
Nel gennaio del 1965 il 33 giri scalzò l'album "The Beach Boys concert" dalla vetta americana; dopo una settimana venne rimpiazzato dal 33 giri dei Beatles "Beatles '65".
"Roustabout" restò nella classifica statunitense per un totale di 27 settimane. Il 20 maggio 1988 ricevette il disco d'oro.
Versione mono:


Versione stereo:

Nel 1977 la RCA gli assegnò il numero di catalogo AFL1-2999 e fu poi cancellato dai cataloghi.
PUBBLICAZIONI IN CD
Per quanto riguarda il CD, le canzoni di "Roustabout" furono pubblicate nel 1993 nel corrispondente CD della serie "double features" assieme alle canzoni di "Viva Las Vegas" (BMG 07863-66129-2).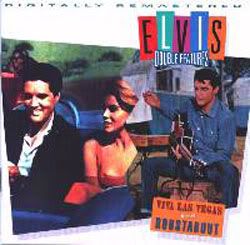 Ecco la copertina europea: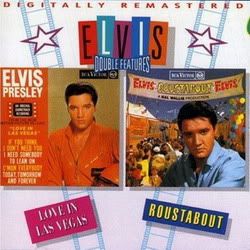 Nel 2010 la Sony finalmente pubblicò questa colonna sonora da sola (Sony A762719 in U.S.A. e Sony 88697728952 in Europa).
Da segnalare che la RCA australiana pubblicò il CD "Roustabout" fin dal 1988 (BMG BPCD 5084). Oggi è un articolo molto raro.
EMISSIONI TRACK LIST
LATO A:
Roustabout
Little Egypt
Poison Ivy League
Hard Knocks
It's A Wonderful World
Big Love, Big Heartache
LATO B:
One Track Heart
It's Carnival Time
Carny Town
There's A Brand New Day On The Horizon
Wheels On My Heels
RECENSIONI
Di Roberto Paglia
Posto sul mercato alla fine del 1964, Roustabout risulta essere, prevedibilmente, l'ennesimo progetto scaturito da una formula che andava ormai ripetendosi da oltre quattro anni.
La tracklist composta da undici brani, molti dei quali al di sotto dei due minuti di durata, rimanda inevitabilmente a It happened at the World's Fair che si era rivelato l'album più debole pubblicato fino a quel momento: in entrambi i casi, il running time complessivo è sorprendentemente esiguo.
Eppure, nonostante ci fossero diversi inediti a disposizione della RCA, a Roustabout non fu aggiunta alcuna bonus song che lo potesse quanto meno potenziare a livello quantitativo, a dispetto del fatto che tale strategia, messa in pratica già ai tempi di Loving you e riesumata recentemente per Fun in Acapulco e Kissin' cousins, si fosse rivelata a tutti gli effetti un esperimento riuscito.
Non c'è molto in questo disco, penalizzato in partenza da una poco oculata scelta del materiale da incidere, non all'altezza del talento di Elvis che pure offre come di consueto il meglio di sè, senza per altro riuscire ad alleviare il rimpianto per la mancata emissione in forma completa della colonna sonora di Viva Las Vegas, nettamente superiore.
In un disco sul quale curiosamente latitano le lente love songs d'atmosfera, la sola BIG LOVE, BIG HEARTACHE può definirsi tale; i brani ritmati si susseguono velocemente senza lasciare, salvo poche eccezioni, tracce degne di nota.
La title track, ben interpretata da Elvis adeguatamente supportato dal coro, è assai piacevole pur non possedendo la necessaria forza che possa permetterle di elevarsi al rango di singolo di lancio.
Sulla falsariga, THERE'S A BRAND NEW DAY ON THE HORIZON, IT'S CARNIVAL TIME e, un gradino più in alto, IT'S A WONDERFUL WORLD, fin dal loro titolo messaggi inneggianti alla positività, dalla discreta linea melodica priva però  di spunti memorabili.
Bella POISON IVY LEAGUE, resa in modo convincente dai musicisti coinvolti nella registrazione e da Elvis che dopo la lenta introduzione interpreta, con verve e senza lesinare un certo disprezzo, un testo simpaticamente polemico nei confronti dei "figli di papà", fino a sottintendere esplicitamente quando canta "...those sons of the...rich"!
LITTLE EGYPT, scritta da Leiber e Stoller e già successo dei Coasters nel 1961, è senza dubbio uno degli episodi migliori dell'album ed Elvis l'approccia con la stessa dose di ironia e di spavalda sicurezza riscontrabile in Return to sender. Difficile prevedere un eventuale responso di vendite per la canzone, nel caso fosse stata scelta per promuovere Roustabout, in ogni caso Little Egypt sarebbe riemersa dal catalogo in occasione del Tv Special del 1968, in un'affascinante veste notturna pervasa da una certa inquietudine di fondo.
La già citata BIG LOVE BIG HEARTACHE è gradevole, pur mancando della necessaria profondità mentre HARD KNOCKS, un rock annacquato privo di reale vigore, è un deciso passo indietro dell'autrice Joy Byers, dopo il picco raggiunto con la splendida IT HURTS ME (sebbene in realtà ne avesse scritto ben poco), incisa da Elvis meno di due mesi prima a Nashville. Le parole del testo echeggiano Trouble, il bellissimo pezzo del 1958, la sostanza ne è distante anni luce.
Discreta l'orecchiabile ONE TRACK HEART, grazie ad un Elvis convinto; trascurabili le brevissime CARNY TOWN e WHEELS ON MY HEELS.
Nel gennaio 1965, prescindendo dal suo non eccezionale valore, Roustabout conquistò la vetta della classifica, confermando l'enorme appeal di Elvis nell'ambito di una scena rock che stava velocemente cambiando.
Bella la copertina, una delle più riuscite degli anni '60, sulla quale alle spalle di un apparentemente imbronciato Elvis, la folla si accalca per assistere, così sembrerebbe, ad un suo spettacolo! Una prospettiva vaga e nebulosa nel 1964...