HARUM SCARUM
Data di pubblicazione
ottobre 1965
N° Catalogo
LPM 3468 MONO/LSP 3468 STEREO
Dettagli:
Oltre alle nove canzoni della colonna sonora di questo film (prodotto in Inghilterra come "Harem Holyday"), troviamo due bonus, scritte per la pellicola cinematografica ma poi non incluse in essa: "Wisdom of the ages" e "Animal instinct".


La colonna sonora venne registrata negli studi Radio Recorders di Hollywood il 24, 25, 26 febbraio ed il 9 marzo 1965.
In alcune copie era presente una foto a colori 12x12 di Elvis ed in copertina c'era un adesivo rosso che annunciava l'omaggio.

Il disco raggiunse l'ottavo posto nella classifica americana ove stazionò per 23 settimane.
Nel settembre 1977 la RCA gli assegnò il numero AFL1-2558 ed in seguito venne cancellato dai cataloghi.
PUBBLICAZIONI IN CD
Per quanto riguarda il CD, le canzoni di "Harum scarum" furono pubblicate nel 1993 nel corrispondente CD della serie "double features" assieme alle canzoni di "Girl happy" (07863-66128-2).


Questo CD venne ristampato nel 1996.
In Europa il numero di catalogo del CD era 74321-13433-2 e la copertina era la seguente: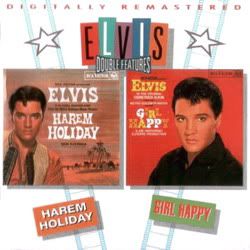 Nel 2003 la Follow That Dream Records pubblicò un CD in una veste molto elegante con libretto allegato. Nel CD sono incluse numerose outtakes.
EMISSIONI TRACK LIST
LATO A:
Harem Holiday
My Desert Serenade
Go East, Young Man
Mirage
Kismet
Shake That Tambourine
LATO B:
Hey Little Girl
Golden Coins
So Close Yet So Far (From Paradise)
Animal Instinct
Wisdom Of The Ages
RECENSIONI
Di Roberto Paglia
Per quanto si voglia criticare la produzione discografica legata alla parentesi hollywoodiana di Elvis, non si può certo negare che molti long playing scaturiti da quella lunga esperienza fossero squisitamente a tema. Tali dischi rispecchiavano l'ambientazione della pellicola omonima, tanto nell'artwork quanto nella musica, che veniva realizzata utilizzando una strumentazione ed un approccio consoni allo scopo da raggiungere, adattandosi perfettamente al soggetto dal quale traeva origine.
Inciso nel febbraio del 1965 e pubblicato alla fine dello stesso anno, Harum Scarum non sfugge a questa regola e, anzi, ne rappresenta l'esempio più radicale.
In virtù della fedeltà alle tematiche cinematografiche, le sonorità sembrano allontanarsi irrimediabilmente dal mondo del rock, laddove con il precedente Girl Happy si fosse tentato un modestissimo e mal riuscito contatto con la nuova cultura musicale, in grande fermento creativo.
Date le sue spiccate peculiarità, Harum Scarum corre quindi il rischio di risultare poco vendibile, e questo rappresenta un curioso paradosso considerando la strategia che lo aveva generato. Le undici canzoni presenti sull'album, due delle quali inserite in qualità di "bonus songs", sono caratterizzate da scarso spessore compositivo e stereotipati testi dal sapore fiabesco, che contribuiscono ad aumentare il distacco dalla realtà.
Fra i musicisti chiamati in studio a creare il tipico sound "orientaleggiante" che permea la colonna sonora, spiccano senz'altro Kenneth Buttrey (batteria) e Charlie McCoy (chitarra), al lavoro più o meno nello stesso periodo su Blonde On Blonde di Bob Dylan.
A dispetto della debolezza di quanto ha a disposizione, Elvis da l'impressione di essere moderatamente interessato. Peccato che il suo coinvolgimento nel progetto sia vanificato dai mixaggi effettuati, talmente scadenti da far gridare allo scandalo. Aver costretto Elvis Presley ad allontanarsi dai suoi reali percorsi artistici è di per sè grave, che si sia lesinato anche sulla qualità del suono delle sue incisioni è imperdonabile. Durante l'ascolto è possibile appurare quanto fosse mal gestito il cantante più famoso del mondo, ed è soprattutto sulla base di questa amara constatazione che Harum Scarum può essere archiviato come uno dei punti più bassi della carriera di Elvis.
Elvis è chiamato a fare i salti mortali già in apertura, perché deve cercare di infondere una parvenza di credibilità alla confusa linea melodica di Harem Holiday. I suoi sforzi sono davvero ammirevoli.
In un'opera avarissima di spunti di rilievo, la veloce e brevissima cavalcata notturna di My Desert Serenade, una sorta di rock 'n' roll da "c'era una volta", non è niente male.
Tre consecutive ballate, Go East Young Man, Mirage e Kismet, oltre a condurci nell'incantato Lunarkand, evidenziano pur nei loro limiti l'impegno di Elvis, probabilmente affascinato dal ruolo che interpreta nel film ed incuriosito dal trattamento riservato alle sue esternazioni amorose, certamente inusuale.
Shake That Tambourine chiude con ritmo il primo lato del 33 giri: nulla di trascendentale ma il cantante pare almeno divertirsi su un tappeto di percussioni.
Diametralmente opposta l'atmosfera che si respira sul secondo lato, visto che nessun incantesimo potrebbe salvare dall'oblìo l'inconcludente Hey Little Girl, arrangiata in modo approssimativo e priva della coloritura fatata delle sue compagne di viaggio.
Altre due love songs in sequenza, Golden Coins e So Close, Yet So Far (From Paradise), ristabiliscono in qualche modo la situazione per merito di un Elvis ottimamente calato nella parte, anche se in perenne lotta con qualche sciagurato tecnico del suono.
Animal Instinct, che vede sugli scudi Rufus Long al flauto, è una canzone decisamente stramba e difficilmente inquadrabile, dando però un'occhiata al testo si può sorridere scorrendo la lista degli animali con i quali Elvis si immedesima, mentre tenta di impressionare la lei di turno!
L'apoteosi dell'alchimia sonora che alimenta Harum Scarum, è raggiunta con la conclusiva, quasi epica, Wisdom Of The Ages, dove i temi cari all'amore lasciano il posto a una solenne morale che non può essere presa sul serio.
Se la musica realizzata per il rigido contesto hollywoodiano avesse costituito una quota marginale della produzione di Elvis, Harum Scarum sarebbe stato archiviato come una poco riuscita operazione di commistione di generi in antitesi fra loro, un disco da trascurare a beneficio di materiale più consistente e rappresentativo.
Sfortunatamente le cose non andarono in questo modo, perché Elvis continuò ad incidere una colonna sonora dietro l'altra, disperdendo il proprio talento.
Come prigioniero della misteriosa dimensione dalla quale era giunto a noi, l'album sarebbe rimasto un episodio a se stante, slegato dal resto della discografia di Elvis.
Ancora oggi trova fissa dimora nel Lunarkand, trasformato per sempre in una favola da raccontare a bambini troppo cresciuti e disincantati.