GIRL HAPPY
Data di pubblicazione
aprile 1965
N° Catalogo
LPM 2523 MONO/LSP 3338 STEREO
Disco d'Oro
Dettagli:
Tutte le undici canzoni di questa colonna sonora vennero registrate negli studi Radio Recorders di Hollywood il 10, l'11, il 12 ed il 15 giugno 1964.
In questo LP troviamo anche una canzone bonus, "You'll be gone", che venne incisa da Elvis a Nashville il 18 marzo 1962.
Una curiosità: i tecnici accelerarono di circa l'8% il brano "Girl happy"...

Il 33 giri raggiunse l'8°posto nella graduatoria americana dove rimase per 31 settimane. Il 15 luglio 1999 ricevette il disco d'oro.
Nel 1977 la RCA gli assegnò il numero di catalogo AFL1-3338.
PUBBLICAZIONI IN CD
Per quanto riguarda il CD, le canzoni di "Girl happy" furono pubblicate nel 1993 nel corrispondente CD della serie "double features" assieme alle canzoni di "Harum scarum" (07863-66128-2).

In Europa il numero di catalogo del CD era 74321-13433-2 e la copertina era la seguente: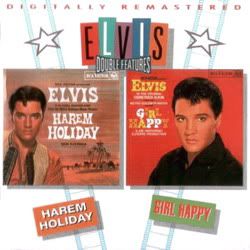 Finalmente nel 2010, sia in U.S.A. (Sony A761588) che in Europa (Sony 88697728852), questo album venne pubblicato in CD nella sua forma originaria.
Nel 2003 la Follow That Dream Records pubblicò un CD in una veste molto elegante con libretto allegato.
Nel CD sono incluse numerose outtakes.
EMISSIONI TRACK LIST
LATO A:
Girl Happy
Spring Fever
Fort Lauderdale Chamber Of Commerce
Startin' Tonight
Wolf Call
Do Not Disturb
LATO B:
Cross My Heart and Hope To Die
The Meanest Girl In Town
Do The Clam
Puppet On A String
I've Got To Find My Baby
You'll Be Gone