G.I. BLUES
Data di pubblicazione
1960
N° Catalogo
RCA LSP/LPM 2256
Disco di Platino
Dettagli:
Si tratta della prima colonna sonora del periodo post-militare. Essa include tutte le 11 canzoni del film anche se, per motivi di diritti d'autore, in Europa "Tonight is so right for love" venne sostituita con Tonight's all right for love.

Le vendite di questo LP si attestarono, all'epoca, attorno ai 3,5 milioni di copie e la RIAA lo certificò disco d'oro il 12 marzo 1963 e con quello di platino il 27 marzo 1992.
"G.I. Blues" entrò nella classifica americana nel mese di ottobre del 1960 al sesto posto, la più alta posizione di debutto di ogni album di Elvis; Nel giro di sei settimane raggiunse il comando ove restò per 10 week end (anche se non consecutivi).
La presenza totale nella graduatoria americana dei 33 giri fu di 111 settimane, il record assoluto per tutti i dischi di Elvis.
Alcune copie includevano un coupon.

La versione stereo fu seconda nell'apposita classifica statunitense ove rimase per 47 settimane.

Nel 1977 la RCA assegnò il numero AFL1-2256 alla versione stereofonica ed esso fu ancora cambiato nel 1980 in AYl1-3735.
PUBBLICAZIONI IN CD
La prima edizione americana in CD di questo album è risale al 1988 (3735-2-R) e fu ristampata nel 1991, nel 1993 e nel 1994.
Nel 2010 la Sony rieditò il CD con il numero di catalogo A761558.
La versione europea è datata 1987 (Flash Serie) ed il suo numero di catalogo è ND 83735.
Fu ristampata nel 1988 e nel 2010 dalla SONY (88697728832).
Nel 1997 vide la luce una versione di "G.I. Blues" in CD con delle versioni alternative come bonus. Il numero di catalogo è BMG 07863 66960 2.
Ecco la tracklist:
Tonight Is So Right For Love
What's She Really Like
Frankfort Special
Wooden Heart
G.I. Blues
Pocketful Of Rainbows
Shoppin' Around
Big Boots
Didja' Ever
Blue Suede Shoes
Doin' The Best I Can
Tonight's All Right For Love
Big Boots (fast version)
Shoppin' Around (alternate take 11)
Frankfort Special (fast version-take 2)
Pocketful Of Rainbows (alternate take 2)
Didja' Ever (alternate take 1)
Big Boots (accoustik version)
What's She Really Like (alternate take 7)
Doin' The Best I Can (alternate take 9)

Questo CD venne stampato anche in un'edizione deluxe per collezionisti: il contenuto non cambiava ma il CD era icluso in un bella hard cover cartonata con un libretto di 28 pagine.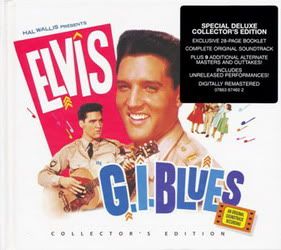 EMISSIONI TRACK LIST
LATO A:
Tonight Is So Right For Love
What's She Really Like
Frankfort Special
Wooden Heart
G.I. Blues
LATO B:
Pocketful Of Rainbows
Shoppin' Around
Big Boots
Didja' Ever
Blue Suede Shoes
Doin' The Best I Can