ELVIS-THAT'S THE WAY IT IS
Data di pubblicazione
dicembre 1970
N° Catalogo
RCA LSP-4445
Disco d'Oro
Dettagli:
Si tratta una sorta di colonna sonora dell'omonimo film-documentario.
Quattro canzoni sono state registrate dal vivo a Las Vegas nell'agosto 1970 mentre le restanti otto provengono dalla seduta di registrazione di Nashville del giugno dello stesso anno.
Come molti LP del 1970, anche le prime stampe di "That's the way it is" erano in vinile non flessibile e le successive tornarono al classico vinile.
Questo LP venne certificato disco d'oro dalla RIAA il 28 giugno 1973; rimase per 23 settimane in classifica ove raggiunse il 21° posto. Nella graduatoria Country fu ottavo con una presenza totale di 17 settimane.


La versione "cartuccia" di questo album arrivò fino al 21° gradino (7 settimane di presenza nell'apposita classifica).
Nel 1977, questo disco assunse il numero di catalogo AFL1-4445 e nel settembre del 1981 entrò a far parte della linea economica denominata "best buy" (AYM1-4114).
PUBBLICAZIONI IN CD
La versione in CD è quella giapponese del 1985 (RPCD-1006).
Negli Stati Uniti vede la luce nel 1993 (07863 54114 2) e la stessa cosa accade in Europa (74321 14690 2).
Da segnalare una splendida edizione del 1992 (riedita l'anno seguente) col numero di catalogo UDCD-560. Si tratta di un dischetto placcato in oro e dal suono straordinario, a cura della Mobile Fidelity, con una grafica un po' diversa; in allegato un libretto di 12 pagine con mini-poster. Ecco la copertina: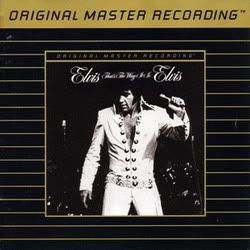 Nel 2000 sarà pubblicato un cofanetto di 3 CD per il 25° anniversario della pubblicazione dell'album, ma si tratta di una vera e propria nuova pubblicazione che verrà trattata a parte in queste schede.
Nell'aprile del 2008 la Follow That Dream Records pubblicherà la sua versione di quest'album in un doppio CD (8869729696-2) in una confezione da 7" e con un libretto di 20 pagine.
EMISSIONI TRACK LIST
LATO A:
I Just Can't Help Believin' [Las Vegas 11/8/1970 DS]
Twenty Days and Twenty Nights
How The Web Was Woven
Patch It Up [Las Vegas 12/8/1970 DS]
Mary In The Morning
You Don't Have To Say You Love Me
LATO B:
You've Lost That Lovin' Feelin' [Las Vegas 12/8/1970 MS]
I've Lost You [Las Vegas 11/8/1970 DS]
Just Pretend
Stranger In The Crowd
The Next Step Is Love
Bridge Over Troubled Water