ELVIS' GOLDEN RECORDS, VOL. 1
Data di pubblicazione
marzo 1958
N° Catalogo
LPM-1707
Multi Platino
Dettagli:
Primo di cinque volumi che ci accompagneranno lungo la discografia di Elvis. In questa serie di dischi d'oro troveremo i 45 giri che, secondo la RCA, hanno guadagnato lo status di disco d'oro grazie alle vendite e agli incassi di esse. Si tratta di una sorta di "greatest hits", insomma, con i più grandi successi di Elvis raccolti in un'unica emissione.
In origine le lettere del titolo del 33 giri erano stampate in celeste e nessuna canzone era riportata sulla front cover. A partire dalle stampe del novembre 1963 le lettere del titolo diventarono bianche e furono riportati i titoli di tutte le 14 canzoni incluse.
All'interno della prima edizione c'era un coupon pubblicitario che servivga per l'acquisto di un libro fotografico.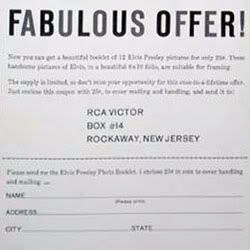 Le note di questo 33 giri contenevano degli errori: non è vero che "Heartbreak hotel" venne scritta da Mae Boren Axton mentre Elvis si esibiva in Florida poiché il brano venne dato ad Andrew Jackson in un albergo a Nashville; non è vero che la canzone venne registrata il 10 febbraio 1956 ma il 10 gennaio del 1956...
Un'altro errore è quello riguardo "I want you, I need you, I love you"; secondo le note del disco, la canzone fu incisa nella prima seduta di registrazione nella quale venne ingaggiato un coro ma in realtà anche il 10 gennaio, nella primissima session per la RCA, Elvis registrò con un coro.
Non so se si possa considerare un errore i credits di "Love me tender" che qui sono attribuiti a Vera Matson e ad Elvis stesso per ragioni di diritti d'autore... In realtà fu Ken Darby a scrivere il pezzo, assieme a tutti gli altri del film in questione.
"Elvis' golden records" venne certificato disco d'oro dalla RIAA il 17 ottobre 1961; il 20 maggio 1988 ricevette il disco di platino, il 27 marzo 1992 ebbe 5 dischi multi platino ed il 15 luglio 1999 6 dischi multiplatino.
Il 33 giri entrò nella classifica americana al nono posto e raggiunse al massimo la terza posizione. La sua presenza globale in classifica fu di 40 settimane.
Dopo la morte di Elvis, questo LP tornò in graduatoria fino al 63° gradino (presenza totale: 23 settimane).
Nel febbraio del 1962 venne pubblicata la stampa in stereo elettronico col numero di catalogo LSP-1707 [e];
nel 1977 gli venne assegnata la sigla AFL1-1707[e] e nel 1979 gli venne cambiata in AQL1-1707[e].
Nel 1985 fu ristampato in una versione con tutte le canzoni riprocessate in mono; il 33 giri venne fabbricato in vinile pesante con un'etichetta speciale che indicava il 50° anniversariodella firma del contratto di Elvis con la RCA e il package aveva una striscia dorata che avvolgeva la copertina (AFM1-5196).
PUBBLICAZIONI IN CD
La prima edizione in CD di questo album è datata gennaio 1984 ed è rarissima in quanto è quotata 250 euro circa ed ha come numero di catalogo PCD-117071A5-47 (il dischetto venne stampato in Giappone). Nel mese di novembre dello stesso anno venne riemesso (DIDX 185 21B6) ma anche questa edizione non è di facile reperibilità e si aggira sulla quarantina di euro, come valore.
Nel corso degli anni si contano almeno 18 edizioni made in U.S.A. !
In Europa questo album fece il suo esordio in CD nel 1985 (PD 85196); sarà poi ristampato nel 1990 (ND 81707), nel 1991 e nel 1992.
Nel 1997, in occasione del 20° anniversario della morte di Elvis, furono pubblicati vari album in versione "extended", cioè con più canzoni e questa sorte toccò anche al "Golden records 1".
Il numero di catalogo di questa nuova pubblicazione è 07863 67462 2 e le canzoni in più sono le seguenti:
"My Baby Left Me", "I Was The One", "That's All Right", "Baby, Let's Play House", "Mystery Train" e "Blue Suede Shoes".
EMISSIONI TRACK LIST
LATO A:
Hound Dog
Loving You
All Shook Up
Heartbreak Hotel
Jailhouse Rock
Love Me
Too Much
LATO B:
Don't Be Cruel
That's When Your Heartaches Begin
(Let Me Be Your) Teddy Bear
Love Me Tender
Treat Me Nice
Anyway You Want Me (That's How I Will Be)
I Want You, I Need You, I Love You
RECENSIONI
Di Davide Raga
Nel 1958, il mito di Elvis era cosa ormai consolidata dai milioni di vendite, films e dischi d'oro. Ecco dunque questo LP "Golden records" che aveva l'intento di raccogliere su un unico disco, tutti i successi dorati che tanto hanno venduto in questi anni e che tanto hanno fatto parlare di se come Hound dog, Heartbreak Hotel, Jailhouse rock, Don't be cruel, My baby Left Me, Mystery train e tante altre.
Segnaliamo di questo album la versione "remastered" edita nel 1997 contenente alcune bonus songs rispetto alla compilazione originale.
Un CD sicuramente da inserire di diritto nella propria discografia in quanto rappresenta in modo alquanto completo e convincente i primi anni della stellare carriera di Elvis.
Di Roberto Paglia
Prima raccolta di successi e sicuramente una delle più spettacolari e significative in quanto riesce a rendere, in tempo reale, l'esatta misura dell'esplosione commerciale di Elvis avvenuta nel biennio 1956/57.
All'interno di ELVIS' GOLDEN RECORDS trova infatti posto una lunga serie di million sellers, impressionante se rapportata al tempo intercorso fra l'exploit in classifica di HEARTBREAK HOTEL, disco d'esordio con la RCA, e quello di JAILHOUSE ROCK, l'hit single più recente di Elvis qui contenuto: neanche due anni!
I brani raccolti in questo 33 giri vanno a formare una tracklist difficilmente eguagliabile dal punto di vista dell'impatto, dell'intensità e naturalmente della qualità.
Ascoltando l'album si passa con disinvoltura dalla carica incendiaria di HOUND DOG e JAILHOUSE ROCK, ai languidi e sensuali messaggi d'amore di LOVE ME TENDER o LOVING YOU, dalla cupa atmosfera di HEARTBREAK HOTEL carica di sinistri presagi, agli apparentemente ingenui ammiccamenti alle giovanissime fans di DON'T BE CRUEL, TEDDY BEAR o TREAT ME NICE nei quali un velato doppio senso gioca un ruolo rilevante.
E così via... Indubbiamente una collezione di grandi classici, entrati in brevissimo tempo nell'immaginario collettivo, dalla quale emerge prepotentemente lo straordinario talento di Elvis, la particolarità della sua voce così versatile, a tratti morbida, aspra e graffiante, sensuale e potente.
Elvis nel corso della sua carriera avrebbe ampiamente assecondato il suo desiderio di cantare quanto lo colpiva di più a livello emozionale, prescindendo dal genere musicale e dal titolo di Re del Rock'n'Roll che ben presto gli venne conferito dalla stampa.
Questa sua fondamentale tendenza emerge, a livello embrionale, già dai solchi di questa antologia che discograficamente copre due anni.
È giusto ricordare il contributo dei musicisti coinvolti in queste registrazioni, davvero eccellenti. Su tutti un grande Scotty Moore, sempre determinante come ad esempio quando caratterizza diversi brani con le sue scariche di chitarra dure e taglienti, quando si dedica ad un discreto lavoro di cesellatura o quando si produce in TOO MUCH, in uno dei suoi assolo più atipici e fuori dagli schemi,rischiando di perdersi prima di ritrovare la strada giusta!
Tale è l'abbondanza di materiale a disposizione della RCA che nonostante ELVIS' GOLDEN RECORDS contenga ben 14 tracce, non fu possibile inserire tutto e tre b-sides, I WAS THE ONE, MY BABY LEFT ME e PLAYING FOR KEEPS, rimasero fuori dal progetto nonostante avessero le credenziali per farne parte.
A rigor di logica si sarebbe potuto fare a meno del singolo TEDDY BEAR/LOVING YOU, già presente sull'album LOVING YOU, e di LOVE ME, brano di punta di ELVIS nel 1956, ma queste esclusioni avrebbero senz'altro privato la tracklist di parte della sua forza.
ELVIS' GOLDEN RECORDS, commercializzato nei primi mesi del 1958, fu sotto tutti gli aspetti un ottimo affare. Contribuì a mantenere vivo l'interesse intorno ad Elvis, ormai impegnato con il servizio di leva, e permise alla casa discografica di vendere, consistentemente, le stesse canzoni per l'ennesima volta.
Scorrendo la lista dei brani che lo compongono, possiamo facilmente constatare che molti di questi sarebbero diventati parte integrante degli spettacoli dal vivo di Elvis negli anni '70. Indipendentemente dal trattamento loro riservato da Elvis, che spesso preferiva concentrarsi su materiale di diverso tipo che per lui rappresentava una sfida più stimolante, il loro status di super classici senza tempo, ne rendeva praticamente obbligatoria la presenza in scaletta.
La copertina di ELVIS' GOLDEN RECORDS ci mostra, al solito, l'immagine di Elvis stavolta immersa in una dimensione dorata.
Davvero incredibile la strada da lui percorsa nel giro di pochi anni. Con pieno merito.