BLUE HAWAII
Data di pubblicazione
1 ottobre 1961
N° Catalogo
LPM 2426 MONO/LSP 2426 STEREO
Multi Platino
Dettagli:
Tutte le canzoni di questo disco furono registrate nello studio Radio Recorders a Hollywood il 21, 22 e 23 marzo 1961 per la colonna sonora dell'omonimo film. L'unica canzone ad essere esclusa fu "Steppin' out of line" che sarà pubblicata nel 1962 in "Pot luck". Nelle edizioni in CD di "Blue Hawaii" troverà invece il suo logico collocamento all'interno della colonna sonora.
Nelle prime stampe, un adesivo rosso pubblicizzava il singolo "Can't help falling in love/Rock-a-hula baby".
Il 33 giri vendette rapidamente 1 milione di copie tanto che venne certificato disco d'oro dalla RIAA il 21 dicembre del 1961. All'epoca, una stima approssimativa delle vendite si collocava oltre le 5 milioni di copie. Blue Hawaii fu premiato anche con il disco di platino e due multiplatino il 27 marzo 1992 e con 3 dischi multiplatino il 30 luglio del 2002.


"Blue Hawaii", dopo otto settimane dal suo debutto in classifica, raggiunse il primo posto e comandò la graduatoria addirittura per 20 settimane consecutive, un vero record che fu battuto solo dal 33 giri "Rumors" dei "Fleetwood Mac", nel 1977.
La colonna sonora di "West side story" scalzò "Blue Hawaii" dal primo posto. Con questa soundtrack, Elvis restò in classifica per un totale di 79 settimane !
Nel gennaio del 1962 la versione stereofonica di questo LP comandò la speciale graduatoria della neonata classifica per questo recente formato a 33 giri; dopo 4 settimane al vertice, "Blue Hawaii" stereofonico restò ancora in classifica al secondo gradino per 12 settimane.
C'è da ricordare che questo disco di Elvis sarà l'ultimo ad adoperare la scritta LIVING STEREO nelle versioni stereo americane dell'epoca: negli album seguenti ci sarà semplicemente la scritta stereo in piccolo ed inoltre con questo LP cesserà il logo RCA in formato rettangolare che ha accompagnato la discografia di Elvis sin dal 1956.
Nel settembre del 1977, la RCA assegnò a questo disco il numero di catalogo AFL1-2426 e nel maggio del 1980 diventò AYL1-3683.
PUBBLICAZIONI IN CD
Per quanto riguarda il CD, negli Stati Uniti venne pubblicato nel 1988 (BMG 3683-2R) per essere poi ristampato nel 1991, 1992 e 1995.
In Europa esordì nel 1987 (Flash Series, ND 83683) e si conta una ristampa nel 1990 e nel 1993.
Ma fu il Giappone a pubblicarlo comunque per primo, fin dal 1985 (RPCD-1010).
Nel 1997 venne pubblicata una versione con l'inclusione di alcune outtakes (07863 66959 2).
Venne anche pubblicata un'edizione limitata di questo CD (07863 67459 2), sempre nel 1997, con copertine cartonate e libretto di 28 pagine. Le canzoni erano le medesime del CD precedente. La copertina era diversa: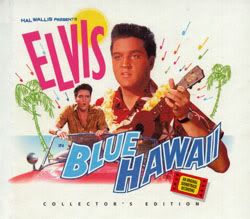 Nel febbraio 2009, la Follow That Dream Records pubblicò un doppio CD in una veste molto elegante con libretto allegato. Nei due CD erano incluse numerosissime outtakes.
EMISSIONI TRACK LIST
LATO A:
Blue Hawaii
Almost Always True
Aloha-Oe
No More
Can't Help Falling In Love
Rock-A-Hula Baby
Moonlight Swim
LATO B:
Ku-u-i-po
Ito Eats
Slicin' Sand
Hawaiian Sunset
Beach Boy Blues
Island Of Love
Hawaiian Wedding Song