A DATE WITH ELVIS
Data di pubblicazione
24 luglio 1959
N° Catalogo
LPM-2011
Dettagli:
Una foto di Elvis in divisa militare è la copertina di questo 33 giri con i titoli delle canzoni scritti su un adesivo rosso.
L'album si apre a libro e troviamo un telegramma di Elvis ed una foto scattata durante la sua partenza per la Germania.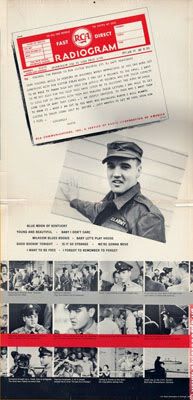 Il retro del 33 giri ci presenta il calendario del 1960 con la data della fine del servizio militare di Elvis cerchiata (24 marzo) anche se venne congedato il giorno 5.
Le stampe dal 1965 in poi avevano la pubblicità dei primi tre volumi della serie "Golden records" al posto del calendario
Il disco raggiunse il 32° posto della classifica americana dove stazionò per 8 settimane.
Esso includeva 10 brani non ancora editi su 33 giri, ma solo su singolo fino a quel momento.
Nel gennaio del 1965 venne pubblicata la versione in stereo elettronico col numero di catalogo LSP-2011 [e] e nel 1977 gli venne assegnato AFL1-2011 [e].
PUBBLICAZIONI IN CD
La prima edizione americana in CD di questo album è risale al 1989 (2011-2-R)e fu ristampata nel 1991 e nel 1996.
La versione europea ha 17 canzoni ed il suo numero di catalogo è ND 90360 ed è datata 1989 (fu ristampato nel 1990 e nel 1993).
Le canzoni in più sono le seguenti:
I don't care if the sun don't shine
Tutti Frutti
I'm Gonna Sit Right Down And Cry (Over You)
I Got A Woman
Blue MoonJust Because
One Sided Love Affair
Let Me
EMISSIONI TRACK LIST
LATO A:
Blue Moon Of Kentucky
Young and Beautiful
(You're So Square) Baby I Don't Care
Milkcow Blues Boogie
Baby Let's Play House
LATO B:
Good Rockin' Tonight
Is It So Strange
We're Gonna Move
I Want To Be Free
I Forgot To Remember To Forget
RECENSIONI
Di Davide Raga
Ancora una raccolta di brani che alterna incisioni effettuate ai mitici Sun Records ad  altre di più recente fattura provenienti dalla scuderia RCA, in attesa della fine del servizio militare.
Si inizia con la bella Blue moon ok Kentucky, capolavoro/stravolgimento dell' originale di Bill Monroe, per passare subito ad alcuni pezzi facenti parte della colonna sonora di "Jailhouse Rock": Young and beautiful, la rockabilly  Baby, I don't care dove a suonare il basso elettrico è proprio Elvis, in sostituzione di Bill Black che, infuriato per non esser riuscito a padroneggiare il nuovo strumento (infatti era la prima volta che lasciava il contrabbasso per il basso elettrico) abbandonò lo studio di incisione non prima di aver fatto strisciare lo strumento per tutto il pavimento della sala con un bel calcio.
Ancora Sun Records con Milcow blues boogie e Good rockin' tonight.
Is it so strange è la ballata Country scritta da Faron Young che Elvis cantò anche in occasione del Million Dollar Quartet.
Dopo We're gonna move dal film Love me tender, si ritorna a Jailhouse Rock con I Want to be free, un brano a torto sottovalutato dai più ma che merita sicuramente un po più di considerazione.