SPINOUT
Data di pubblicazione
ottobre 1966
N° Catalogo
LPM 3702 MONO/LSP 3702 STEREO
Dettagli:
Questa colonna sonora include le nove canzoni del film più le bonus "Tomorrow is a long time", "Down in the alley" e "I'll remember you".
Le canzoni del film vennero incise nei Radio Recorders Studios di Hollywood il 16 e il 17 febbraio 1966.
Nelle prime stampe del 33 giri era inclusa una foto a colori 12"x12".

Il 33 giri raggiunse il 18°posto nella classifica americana dove stazionò per 32 settimane.
Nel novembre del 1977 gli venne assegnato il numero AFL1-2560 mentre nel maggio 1980 diventò AYL1-3684 per essere poi cancellato dai cataloghi.
In Europa venne distribuito con il titolo "California holyday".

PUBBLICAZIONI IN CD
Per quanto riguarda il CD, le canzoni di "Spinout" furono pubblicate nel 1994 nel corrispondente CD della serie "double features" assieme alle canzoni di "Double trouble" (BMG 07863 66361 2).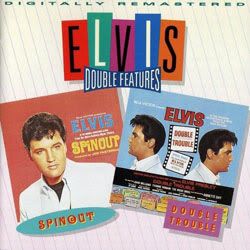 Nel maggio 2004 la Follow That Dream Records pubblicò un CD in una bellissima edizione cartonata a 7" con un libretto di 16 pagine allegato.
Nel dischetto sono incluse numerose versioni alternative.
EMISSIONI TRACK LIST
LATO A:
Stop, Look and Listen
Adam and Evil
All That I Am
Never Say Yes
Am I Ready
Beach Shack
LATO B:
Spinout
Smorgasbord
I'll Be Back
Tomorrow Is A Long Time
Down In The Alley
I'll Remember You