IT HAPPENED AT THE WORLD'S FAIR
Data di pubblicazione
10 aprile 1963
N° Catalogo
LPM 2523 MONO/LSP 2697 STEREO
Dettagli:
Tutte le dieci canzoni di questa colonna sonora vennero registrate negli studi Radio Recorders di Hollywood il 22 settembre 1962 tranne "Happy ending" e "Relax" (ed una versione di "Take me to the Fair" pubblicata postuma) che risalgono al 30 agosto.

Il 33 giri raggiunse il 4°posto nella graduatoria americana dove rimase per 26 settimane.
Nella classifica dei dischi stereofonici fu quindicesima con una permanenza di 17 settimane.

Nelle prime stampe americane era presente una foto a colori di Elvis: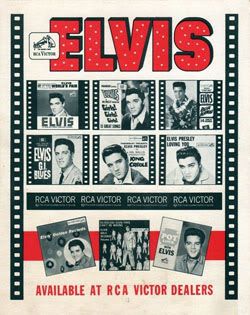 Nel settembre del 1977 la RCA gli assegnò il numero di catalogo AFL1-2568 e fu poi cancellato dai cataloghi.
PUBBLICAZIONI IN CD
Per quanto riguarda il CD, le canzoni di "It happened at the World's Fair" furono pubblicate nel 1993 nel corrispondente CD della serie "double features" assieme alle canzoni di "Fun in Acapulco" (07863-66131-2).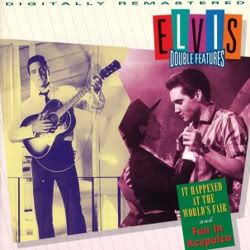 In Europa il numero di catalogo del CD era 74321-13431-2 e la copertina era la seguente:

In ambedue i CD è inclusa una canzone in più rispetto al 33 giri: la versione del film di "One broken heart for sale".
Nel 2003 la Follow That Dream Records pubblicò un CD in una veste molto elegante con libretto allegato. Nel CD sono incluse numerosissime outtakes.
EMISSIONI TRACK LIST
LATO A:
Beyond The Bend
Relax
Take Me To The Fair
They Remind Me Too Much Of You
One Broken Heart For Sale
LATO B:
I'm Falling In Love Tonight
Cotton Candy Land
A World Of Our Own
How Would You Like To Be
Happy Ending