FUN IN ACAPULCO
Data di pubblicazione
novembre 1963
N° Catalogo
LPM 2756 MONO/LSP 2756 STEREO
Dettagli:
Tutte le undici canzoni del film sono incluse in questa colonna sonora che venne registrata negli studi Radio Recorders di Hollywood il 22 e 23 gennaio 1963. La parte vocale di "Guadalajara", invece, venne incisa da Elvis il 27 febbraio.
Le canzoni "Love me tonight" e "Slowly but surely" vennero inserite nel disco come bonus.
"Fun in Acapulco" raggiunse il terzo posto in classifica dove rimase per 24 settimane.

Nel 1977 a questo disco venne assegnato il numero di catalogo AFL1-2756 e poi venne cancellato dai cataloghi della RCA.
PUBBLICAZIONI IN CD
Per quanto riguarda il CD, le canzoni di "Fun in Acapulco" furono pubblicate nel 1993 nel corrispondente CD della serie "double features" assieme alle canzoni di "It happened at the World's Fair" (07863-66131-2).

In Europa il numero di catalogo del CD era 74321-13431-2 e la copertina era la seguente: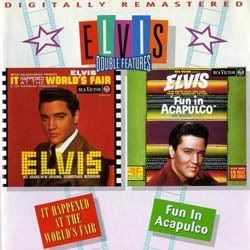 Nel gennaio 2010 fu finalmente trasposta in un CD "tradizionale" questa colonna sonora (Sony A762716).
Nel 2003 la Follow That Dream Records pubblicò un CD in una veste molto elegante con libretto allegato.
Nel CD sono incluse numerose outtakes.
EMISSIONI TRACK LIST
LATO A:
Fun In Acapulco
Vino, Dinero Y Amor
Mexico
El Toro
Marguerita
The Bullfighter Was A Lady
(There's) No Room To Rhumba In A Sports Car
LATO B:
I Think I'm Gonna Like It Here
Bossa Nova Baby
You Can't Say No In Acapulco
Guadalajara
Love Me Tonight
Slowly But Surely