DOUBLE TROUBLE
Data di pubblicazione
giugno 1967
N° Catalogo
LPM 3787 MONO / LSP 3787 STEREO
Dettagli:
Tutte otto le canzoni di questa colonna sonora sono incluse in questo 33 giri con in aggiunta "It won't be long", tagliata dal film ed altre tre canzoni ("Blue river", "Never ending" e "What now, what next, where to") incise nel 1963 e mai pubblicate su LP fino ad allora.
I pezzi di "Double trouble" furono registrati il 28, 29 e 30 giugno 1966 negli studi "Radio Recorders" e "MGM Soundstage" di Hollywood. Inoltre il 14 luglio vennero effettuate delle sovraincisioni su "City by night" e "Baby if you'll give me all of your love" sempre nello studio "MGM Soundstage".
Nelle prime stampe americane era inclusa una foto a colori di Elvis di 7"x9".


Il disco raggiunse il 47° posto nella clasifica americana dove rimase per un totale di 20 settimane.

Mono:

Stereo:

Nel settembre del 1977 gli venne assegnato il numero di catalogo AFL1-2564.
PUBBLICAZIONI IN CD
Per quanto riguarda il CD, le canzoni di "Double trouble" furono pubblicate nel 1994 nel corrispondente CD della serie "double features" assieme alle canzoni di "Spinout" (BMG 07863 66361 2).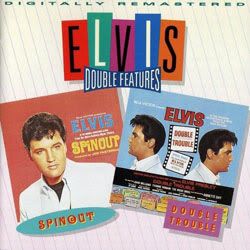 Nell'ottobre 2004 la Follow That Dream Records pubblicò un CD in una bellissima edizione cartonata a 7" con un libretto di 16 pagine allegato.
Nei dischetti sono incluse numerose versioni alternative.
EMISSIONI TRACK LIST
LATO A:
Double Trouble
Baby If You'll Give Me All Of Your Love
Could I Fall In Love **
Long Legged Girl (With The Short Dress On)
City By Night
Old MacDonald
LATO B:
I Love Only One Girl
There Is So Much World To See
It Won't Be Long
Never Ending
Blue River
What Now, What Next, Where To